Reading time: aproximetly 2 minutes
We are pleased to announce that Masterpress has been awarded the 2020 Label Poland Award during Warsaw Pack 2020 – International Packaging and Packaging Techniques Trade Fair held between 3 and 5 March, 2020 in Nadarzyn near Warsaw. The prize has been awarded for the pressure sensitive label decorating the bottles of Bjørn Crystal White premium vodka.
The double-side printed on transparent film, the Bjørn Crystal White label has won the recognition of the competition jury, due to its exceptional quality and precision of print job, as well as for perfectly matching the unique style of the product's packaging. Both the bottle itself and the label perfectly communicate the special character of the product, symbolizing its unique features: masculinity, power and velvety taste of the drink.
Almost the entire surface of the Bjørn Crystal White bottle is covered with a unique typographic texture which was inspired by ancient Scandinavian runes that were carved in stone in the old days. The English text carved in the glass of the bottle tells the story of the Viking king. To learn the entire story, the bottle has to be turned around several times.
Thanks to its original shape, unique texture and a label visible from afar, the Bjørn Crystal White packaging definitely stands out on the shelf.
Bjørn Crystal White is a Polish premium vodka brand, produced by BZK ALCO S.A., which is part of the Bakoma capital group.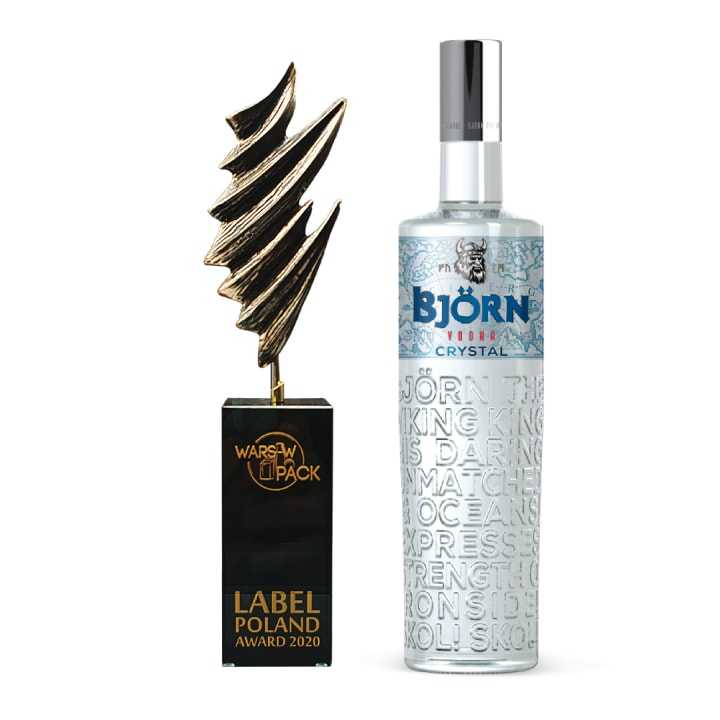 [/su_column][/su_row]