Reading time: aproximetly 3 minutes
Globally and only over the course of a several months, self-isolation policies due to the coronavirus (COVID-19) outbreak reduced economic activity and had a powerful impact on the environment. As industries, transportation networks, and businesses closed, it brought a sudden drop in air pollution. The evidence could be seen in various reports, photos, and films which clearly indicated the environmental improvements were attributed to the reductions in economic activity.
Scientists from the Royal Netherlands Meteorological Institute (KNMI) have been monitoring air pollution over Europe in the past several months using data from the Tropomi instrument from the Copernicus Sentinel-5P satellite.  The new images show the nitrogen dioxide concentrations from 13 March until 13 April 2020, compared to the March-April averaged concentrations from 2019. Madrid, Milan and Rome saw decreases of around 45%, while Paris saw a dramatic drop of 54% – coinciding with the strict quarantine measures implemented across Europe.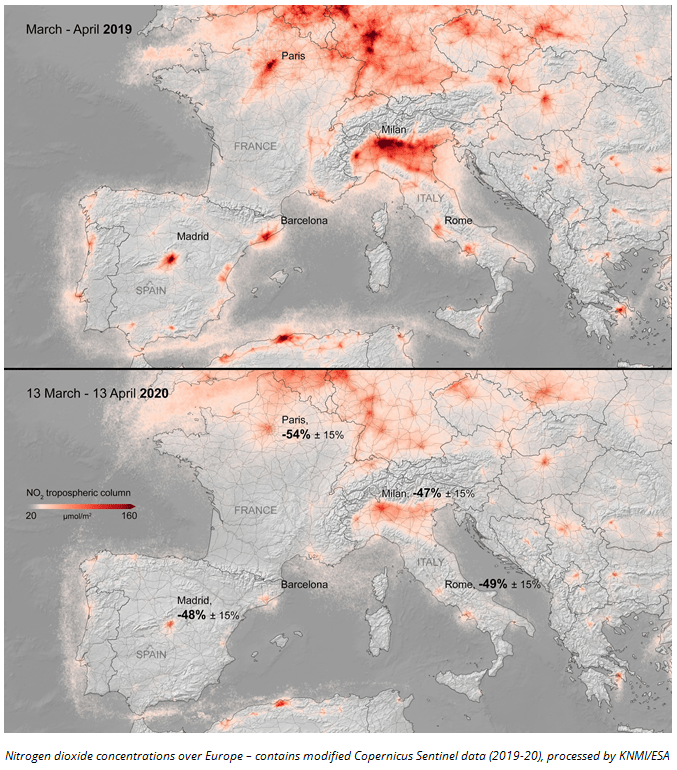 Nitrogen dioxide is produced from power plants, vehicles and other industrial facilities and can have significant impacts on human health.
In fact, some have described this side effect as a type of silver lining to this pandemic, forcing us to take a stronger look at pollution reduction as life slowly returns back to normal.  The hope is that somehow the positive effect our recent actions have had on the environment will prompt adaptations to find improved ways of doing business which could help sustain this positive effect.
Sustainable Manufacturing
As we begin to return to a "new normal", the importance of sustainable manufacturing will be increasingly important to maintain the positive environmental effects from self-isolation.
At Masterpress, caring for the environment is part of our corporate culture. Located in a region called "the green lungs of Poland", our company has an additional obligation towards responsible manufacturing, and this has been an important part of our philosophy since the founding of our company.  We believe that to perform as responsible business, we have an ethical obligation to understand and address our environmental impact.  The opening of our modern, eco-friendly production plant in 2012 has allowed us to address this challenge.
The solutions integrated into our infrastructure and processes reduce energy, emissions, and waste to improve our impact on the environment and society.
Sustainability in Packaging
Unfortunately, however, not all environmental consequences have been positive.  Demand for products during this period of social distancing, which mostly are packaged in plastic, sharply increased resulting in extreme amounts of single-use-packaging waste.  Although next year Coronavirus may be a thing of the past, plastic pollution won't be.  The responsibility on brands to design their packaging for recycling and reduce natural resources, as in "virgin" plastics, will increase to address packaging waste issues.
Masterpress has a wide range of labeling materials and solutions with recycled materials and specifically designed to help facilitate proper recycling of containers.
With Covid-19 delivering unusual environmental benefits, we have never had a better chance to make a greener world.  The big question is if we will be able to capitalize on this moment.
Contact us to learn more about our sustainable manufacturing and labeling solutions which can help you meet your sustainability in packaging challenges.